Christy is not only a budding novelist – she is also the author of several textbooks and workbooks!  After years of offering workshops to her coaching and business clients, and years as a professor for several universities and schools, Christy is sharing her knowledge and love of learning in these fine titles:
Mastering Public Speaking (September 2017)
Time Warp Method (2018)
Let's Argue: Resolving Conflict (2018)
Talk it Out: Mastering Critical Discourse (in beta-testing; 2018)
No Words (July 2017)
Floodgates: Opening and Engaging Your Intuition (August 2017)
Chakra Path (2018)
Yoga & You (2019)
Just Be (July 2017)
Fearless (September 2017)
Mastering Temperament (2018)
New You: Reinventing Yourself (2019)
To a Lighthouse (October 2018)
And from the Symbolism Series:
Color My World (July 2017)
Tarot: Decoded: A Unique Path to Mastering Tarot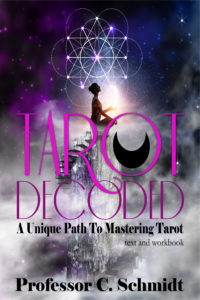 Become a Tarot Master in just a few short weeks!
Welcome to Tarot Decoded.  This unique approach, created by Master Tarot reader and researcher, Professor Christy Schmidt, will have you reading Tarot like an expert.  Intense and detailed examination of each card – including historical background and psychological uses. Tons of exercises and activities! Finally understand the historic symbolism – and potential – of the Major and Minor Arcana.  And, using an innovative process, never need to consult a book for a card meaning again.  You will not only become a pro-reader, but also you will also master visualization, dream manifestation, coaching and personality analysis techniques.   BUY NOW OR TAKE THE COURSE AT ANSUZ.
Rune Mysteries: Decoded (2019)
Contact her publisher here to inquire about these titles.