Who is the tireless and prolific author, Christy A. Schmidt?
Author, photographer, artist, professor, attorney, coach and entrepreneur…Christy is who many people would call Type A.  She has been writing stories since the tender age of nine-years-old.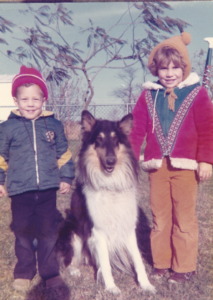 Christy with her brother, John, and dog, Chipper
She published a "few little things" while in grammar and high school – and a story and some poetry while in college.  But, for the most part, her stories have remained trapped in dusty boxes or forgotten binders, or trapped forever in stasis in her computer.
My characters were perpetually frozen in time.  I started to hear them call to be emancipated.
As a professional coach, who trained under Tony Robbins and Cloe Madanes, Christy knew the power of coaching.  Her coaches encouraged her to follow her one true dream: To become an author.
She began by taking the snippets and chapters and forming complete novels.  A massive undertaking, she has over sixty completed stories – and over twelve complete novels ready to find their way to your hands!
We wonder where she gets her ideas:
Dreams.  Funny incidents.  I get most of my material by people-watching.  Real people are the basis for all my characters – although a character is often an amalgamation of many real persons.
Watch those ideas come to life as she releases a stream of books for your enjoyment!  Check out the Coming Soon page for excerpts and to place pre-orders.  Christy thanks you:
My readers are my motivation.  When I am stuck in a story or fighting to finish a chapter, I think of that reader, sitting in his or her chair and needing a good book to take him or her away.  A mini-vacation.  I love the idea of providing my readers with a few hours to escape – and to dream!
Christy lives in Toms River, New Jersey with her sons.  She spends her time writing, reading, taking photos, painting…. She enjoys time with friends and family and gives her time and money to protect the environment and rescue animals.  You can reach her with comments, requests or just to say "hello" via email.